Soluções em alumínio
Obrigado por acessar nosso site
"Diminuir os custos das esquadrias de alumínio sem comprometer a qualidade, mantendo as especificações do projeto e em conformidade com as normas técnicas; Diminuir os prazos de fabricação e instalação; permitir uma maior proximidade do cliente à execução do serviço."
Com essa mentalidade e com bagagem de mais de dez anos de atuação no segmento, reunimos uma equipe enxuta de profissionais experientes, responsáveis, treinados e comprometidos com o nosso objetivo de oferecer aos nossos parceiros o melhor serviço, com o menor custo, e em menor prazo. Para isso, temos nos preocupado em nos adequar aos padrões de qualidade estabelecidos pelos modernos programas de TQM – Total Quality Management, pesquisando e incorporando aquilo que de mais moderno e eficaz surge no mercado de esquadrias de alumínio e vidros de segurança. adotamos uma total padronização de procedimentos quanto à fabricação, armazenagem, transporte e instalação de nossos produtos, alem de investir maciçamente no treinamento de pessoal, o que tem permitido que a empresa alcance seu objetivo de oferecer ao mercado produtos com alto padrão de acabamento e desempenho em conformidade com as normas brasileiras emitidas pela ABNT.
Listing Site Updates
Under one of these subheadings, it's a good idea to list recent updates to my site so that visitors, especially return visitors, can check out the new stuff first. For example, I could list the date and a brief description of the update.

I could also list updated news about my site's topic. For example, if my site were about a particular sport, I could discuss the outcome of a recent competition.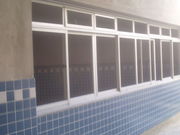 Notifying Visitors of Site Enhancements
Another idea for my home page's text is notifying visitors about the enhancements I put on my site. For example, I want visitors to sign my guestbook or fill out my survey Form E-mailer to answer questions about my site, my business, or my site's topic.
Need some extra help building your site? Here are some topics that may be helpful.
Customizing and Personalizing My Site
I might not want a large amount of text on my home page if I want to guide visitors toward my other pages. Instead of text, I can add photos or interesting links. One of the first things I would want to do is choose a template that reflects what my site is all about. Colors and themes are a great way to reinforce the message and purpose of my site.
Behind the Scenes of My Home Page
Even if I don't put much text on my home page, it's a good idea to include hidden tools that will help me promote my site, so people other than my friends and family actually see it. For example, I could add meta tags, which are hidden codes that allow search engines to find my site. I could also install stats and a counter so I know how many people are visiting. If not many are visiting, submitting my site to search engines will guide more traffic to my site.